William Mortensen Videotape
"Monsters and Madonnas"
Staring Vincent Price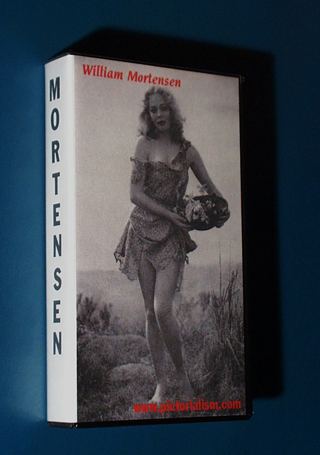 William Mortensen (1897-1965) was the formost pictorial portraitist of the century. His wonderful and unusual photographic portaits have captured the imagination and inspired all those familiar with his legendary work. This is a tape that you will learn from and want to watch over and over again. The VHS videotape runs about 35 minutes and stars Vincent Price and Jeanne Crain. It shows William Mortensen and George Dunham as well as Grey Silva in Mortensen's studio. It features most of Mortensen's famous pictures and chronicles his life. As a free bonus I am including a 16 minute video on the same tape entitled: "Creatures and Creativity". This video shows the work of a modern day pictorialist who was inspired by Mortensen's work and faithfully carries on in his tradition.
The price for the videotape is only $ 19.00 which includes free shipping. Let me tell you friends, if I were in this for the money they would cost you a lot more. By the time I buy the tape, spend an hour duplicating it, buy the plastic box and the shipping envelope and then make the labels and ship it to you at no extra cost - I'm even. I make this available to you because I have a deep appreciation and respect for the work and talent of William Mortensen and enjoy sharing it with other photographers. All that said, I accept personal checks or money orders but no foreign orders please. There is some nudity on the tape so I will not accept orders from minors. Mail request and check to:

Owen Phairis
P.O. Box 3400
Big Bear Lake
California 92315